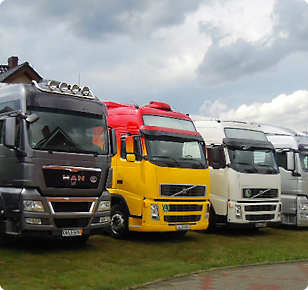 We offer a selection of semi-trailers and tractors of all brands. The vehicles are used, after full inspection, and imported from abroad. We put special care into ensuring that all vehicles we offer fulfil the highest technical standards.
All vehicles are subjected to a thorough technical inspection before sale. All critical elements are checked. The state of all operating elements undergoes an analysis and the level of their wear is verified. The aim of all this to be as fair and as reliable as possible to our clients.
Semi-trailers and tractor units of all brands
We offer a selection of semi-trailers and tractors of all brands. They are imported used vehicles which were subjected to a full technical inspection. We put special care into making sure that all the vehicles we offer to our clients meet the highest possible technical standards. We carefully study their documentation and conduct thorough inspections in order to achieve confidence that we offer vehicles of highest quality which are going to serve failure-free in the years to come.
Vehicles fully prepared for registration
Vehicles in our offer are fully prepared for registration. It means that we have taken care of all formalities related to registration in Poland: the vehicles were subjected to a technical inspection and all necessary documents were translated into Polish. We prepare a VAT invoice for every vehicle and provide a vehicle emission certificate without additional charges.
We will order the right model for you
Do you need a specific model of a tractor unit? Have you already chosen a brand of the vehicle you want to buy? Excellent. We can import a vehicle meeting the specifications of your choice. We do our best to make sure that our clients are fully satisfied with their purchase. Therefore, we put special care into ensuring that the specifications of the imported vehicle meet all your expectations.
A tractor unit tailored to fulfil its function
It is vital to make sure that the tractor unit or semi-trailer is tailored to your needs. They should be equipped with proper drive and adequate load which are dependent on the intended purpose of the vehicle. If you're not sure if a given semi-trailer or tractor unit is fitting your needs, call us and talk with our consultants – they will help you choose the most advantageous model and best specifications of the vehicle.
We offer professional consulting
Our employees are not only car dealers. Most importantly they are also specialists with long-standing experience in the semi-trailers and tractor units business. They are people who have been acquiring their knowledge for years, mostly via their own experience. Thus, if you need advice from someone perfectly conversant with this topic, call us, write to us, or visit our company. Our employees will eagerly answer your questions and dispel any doubts as well as help with choosing a vehicle which will fit your needs and expectations.
To talk to a consultant, please call: +48 781 899 957
Click here for Contact »